Portable Studio
---
"Only the greatest of all idealists have the ability to overcome reality." —Kim Young Ha
ALEXANDMUSHI: Portable Studio selected works.
---
What is the Portable Studio?

The Portable Studio is a neutral territory zone that explores communication and connection through participation. ALEXANDMUSHI invites the public, two people at a time, to step into the 10'x10' (ft) white gator-board box. Participants are then asked to play, for at least 3 minutes, using the two objects placed inside while observing two rules: no talking & no touching.

The rules help eliminate the social conditioning embedded in our race, gender, language and culture. We need to remember how we connect person to person. The project is a radical look at what connects us as individuals rather than divides us in society. "If we are going to overcome the forces that are working to divide us, we need to rebuild our connections one person at a time".

The Portable Studio began in 2015, when Alex & Mushi met on the streets after Alex was evicted from her San Francisco studio. What is crucial in art is the capacity to turn limitations into possibility. Alex sees port-a-potties (portable toilets for construction) on the street and thinks, "if a portable toilet can be on the street why can't a studio be on the street?" Rather than remain studio-less, The Portable Studio was fabricated to bring onto the streets to study connection and communication.



ALEXANDMUSHI, Portable Studio: Marigny, New Orleans, 2018.
Archival Pigment Print
ALEXANDMUSHI, Portable Studio: Cuvrystrausse, Berlin, 2016.
Archival Pigment Print

What is exciting about The Portable Studio is the opportunity to work with different communities around the world and to individually connect with someone. All our projects emphasize the idea of play. Everyone can play, everyone can push and pull an object, everyone can communicate non-verbally. Our belief is that we have the capacity to connect to anyone. There is the terror of revealing ourselves but once we are able to move past the fear, we receive the opportunity to learn, grow, and connect to another person.
---
Directions
Participants are asked to play for at least for 3 minutes with two objects that Alex & Mushi place inside the box.
There are two rules:
No Talking
No Touching
---
Portable Studio in Nakameguro, Tokyo
Ichi-go ichi-e.
"one time, one meeting"
We meet on the streets. That meeting began a collaboration, but that collaboration took time to build.
Alex went with the Portable Studio to Tokyo alone. Mushi returned to Seoul, his visa expired and time was up in the US. There are always two stories involved in Portable Studio. The story between Alex and Mushi and the story between those who participate in the project. As artists we each have our own terror. Inside a collaboration there is always a feeling of risk and elation.
Walking along a small street early morning on the edge of the Nakameguro river, The Portable Studio is on Alex's head. A white rectangle twice her size with a camera in her backpack. She is watching men in white shirts and dark suits move in groups. She's alone, Mushi is in Korea. A decision needs to be made. Will they choose to work together and what will that take?
ALEXANDMUSHI, Portable Studio: Nakameguro, Tokyo, 2015.
Archival Pigment Print

---
Portable Studio in Gyeongbokgung Palace, Seoul

The Portable Studio often places us in unknown territory. As artists and collaborators this unknown territory is what makes it both exciting and terrifying. It is the dynamic tension inherent in the work. In Seoul, November 2017, we set the Portable Studio down on the street outside the palace wall, Mushi was nervous, knowing his country and culture well, our cameras were clicking away as a black van pulled up and two armed men stepped out of the vehicle. What we asked ourselves that day was what is the difference between an artist and a protestor, each is trying to create an intervention to change the system.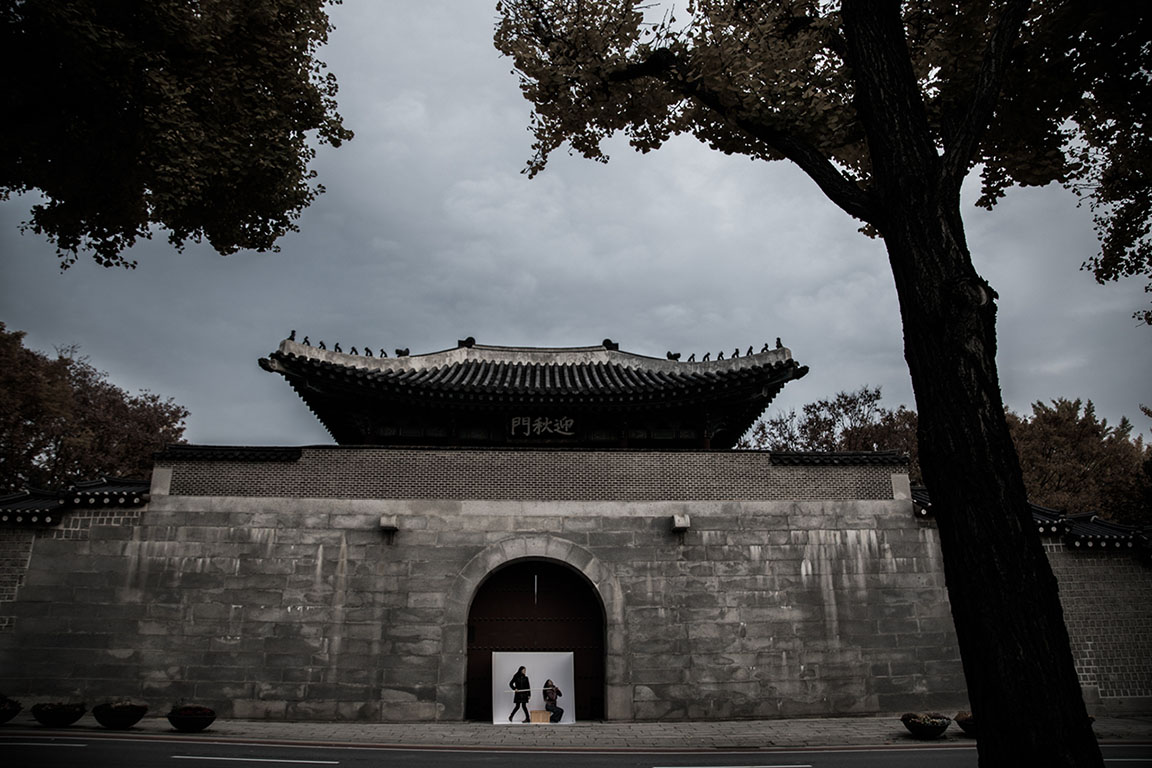 ALEXANDMUSHI Portable Studio Gyeongbokgung Palace 2017. Seoul



---
Portable Studio in Soraurer Strausse, Berlin

It's a neighbourhood, a Turkish family dishes out plates from their home to the table on the street to eat outside while the children still play. A middle-aged man with long fuzzy hair passes on his black metal bike.
Celine and Philipp are running around, shifting back and forth, actively playing like children inside the Portable Studio. Once they are done, they tell us, "this is exactly how we met, we were running around, chasing each other, and being silly inside Berghain [an nightclub in Berlin] when we met".
ALEXANDMUSHI Portable Studio: Sorauer Strasse, Berlin, 2016.
Archival Pigment Print

---
Portable Studio in Bukchon, Seoul

We are walking up the hill behind the Gyeongbokgung palace with the Portable Studio and the two objects on our heads. It is a clear day. As we start setting up the box the breeze turns into a forceful wind. If there is anything that stops us from doing the Portable Studio, it is strong rain and wind. Next to us is a jewelry store and the owner lets us come in. The size of her space is exactly the size of our Portable Studio. She kindly lets us set it up inside and invites a friend to join her. We set up our cameras outside and they begin to play. When they finish, the jewelry storekeeper turns to her friend, "I never had the change to observe how beautiful your smile is."
ALEXANDMUSHI Portable Studio: Bukchon, Seoul, 2017.
Archival Pigment Print


---
Press

The Eye of Photography
SF Weekly
SF Chronicle
Bamboo Curtain Studio
ALEXANDMUSHI Portable Studio Taipei TV.




---
Exhibit In-Situ

Push Me Pull You
SF Camerawork
Unbuilding Walls
ALEXANDMUSHI: Unbuilding Walls Exhibit
at
Modernism West/Foreign Cinema
Mar 30 — May 31, 2017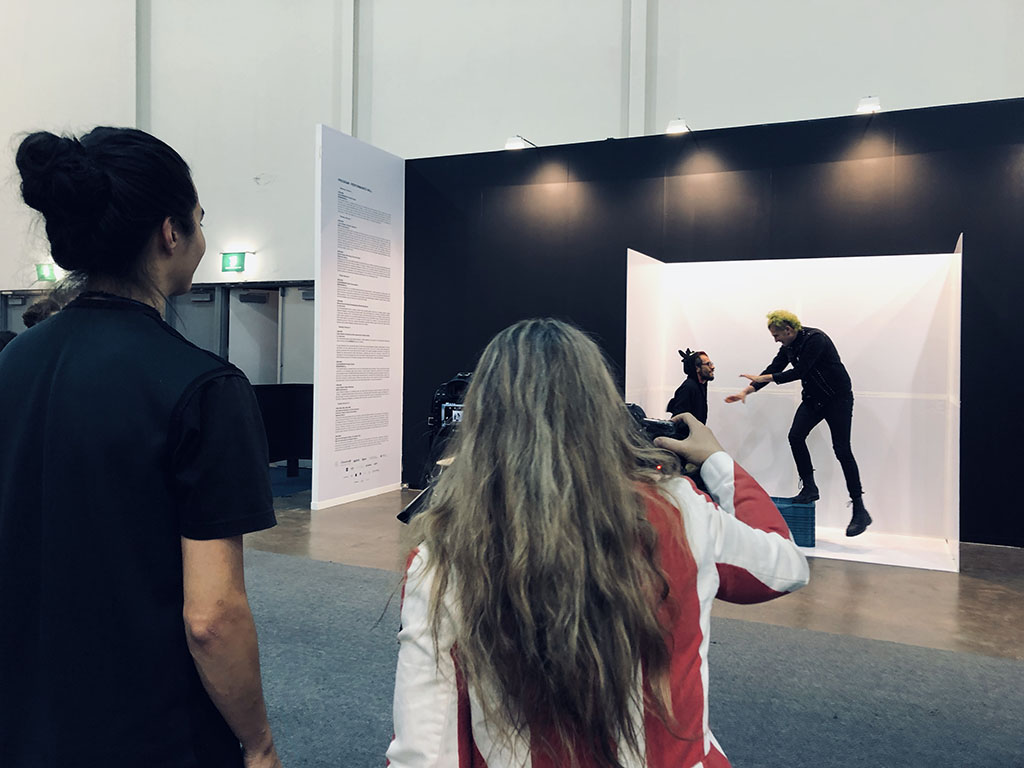 Portable Studio on site at
Zonamaco
Art Fair.
February 6 - 10, 2019.